Manfred T. Reetz receives special honor at the Tianjin Institute of Industrial Biotechnology, Chinese Academy of Sciences – Inauguration of the Manfred T. Reetz Laboratory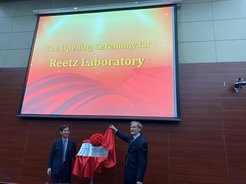 In a unique celebration on November 15th 2019, Manfred T. Reetz received a special honor from the Tianjin Institute of Industrial Biotechnology (TIB), Chinese Academy of Sciences (CAS). On that day, the Manfred T. Reetz Laboratory was inaugurated as part of TIB-CAS with Prof. Zhoutong Sun being the Executive Director. He was a postdoc in the Reetz emeritus group in Marburg and Mülheim, at the time (2013-2016) performing research in methodology development in directed evolution of stereoselective enzymes as catalysts in organic chemistry and biotechnology. The symbolic inscription panel was unveiled by the Director General of TIB-CAS, Prof. Yan-He Ma.
About TIB-CAS
TIB-CAS is a young non-profit research institute established in 2012 by CAS and the Tianjin Municipal Government, its mission being the substitution of specific traditional chemical processes by eco-friendly, sustainable and economically viable bio-manufacturing, utilizing synthetic biology, metabolic pathway engineering, organic chemistry, advanced bioprocess techniques and up-to-date protein engineering based on directed evolution and/or rational design. Recently, the new international "National Innovation Center on Synthetic Biology" was announced by the Chinese government, which will be built at the TIB-CAS site. As part of TIB-CAS, the Reetz Laboratory will also participate in this Center. Interdisciplinary collaborations with a number of different experts working within TIB-CAS and the Center in the above fields will follow in the challenging quest to reach the defined goals of bio-manufacturing. Doctoral students and postdocs from China and other parts of the world have traditionally worked in TIB-CAS. Joint projects with other groups around the world are likewise in progress. Manfred T. Reetz will continue the previous collaboration with Prof. Zhoutong Sun in selected projects started in Marburg, the initial funding support deriving from the Tianjin Synthetic Biology Programme.
Postdoctoral and doctoral positions are open for talented young scientists with backgrounds in synthetic organic chemistry, enzyme engineering, molecular biology, biochemistry, or theoretical biochemistry, please see (Prof. Manfred T. Reetz: Director of Reetz Laboratory or Prof. Zhoutong Sun: Executive Director of Reetz Laboratory).
The Reetz Laboratory is temporarily housed in the present main building of TIB-CAS. Since the Institute as a whole will soon expand significantly by way of additional new buildings, the final quarters will be ready within three years. November 15th also marked the first Reetz Biocatalysis Symposium, which in the future will be held annually in Tianjin.