Mülheim and Surrounding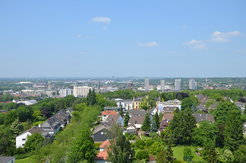 Mülheim an der Ruhr, a medium-sized city with 170000 inhabitants, is located in the south of the Ruhr metro Area. This Area is inhabited by a total of about 5.5 Mio people and stretches along the Ruhr valley on a length of about 40 km. The Ruhr Area has been the centre of coal mining and German steel production and is now transforming into a modern centre for trading, innovations and science. The Ruhr metro area has grown into one of the culturally most vibrant regions in Europe.
The city of Mülheim an der Ruhr is sited at banks of river Ruhr in the very south of the area and hosts two Max Planck Institutes and one Polytechnic. The scenic Ruhr valley stretches into the city centre and the water front is becoming an integral part of city life.
Urban life in Mülheim an der Ruhr is dispersed over several local centres and flavoured with lots of cultural activities. Concerts, theatre and festivals provide a rich cultural life and the river and its surroundings invite for social and sportive activities. The Art Museum of Mülheim is also home of the Ziegler Collection, a remarkable collection of paintings of the Expressionism. If now and then Mülheim is not offering what you are looking for, be sure to find it nearby in the Ruhr metro area.
For further information please follow this link: www.muelheim-ruhr.de