Foundation of the Max-Planck-Institut für Kohlenforschung
Legal basis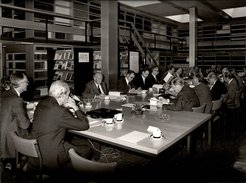 Since 1939, the Institute has been a non-profit, independent foundation with legal capacity under private (civil) law with its main office in Mülheim an der Ruhr. The bodies of the foundation are the Executive Committee and the Management Board.
The eight members of the Executive Committee are from the Ministry of Science and Research of the State of North Rhine-Westphalia, the Mayor of the City of Mülheim an der Ruhr, and three further representatives, each appointed by the Max-Planck-Gesellschaft zur Förderung der Wissenschaften and the Shareholders' Meeting of Studiengesellschaft Kohle gGmbH.
The Management Board of the Foundation generally consists of four to eight members and is formed by the Directors of the Institute, who are scientific members of the MPG, and the Administrative Director in the sense of the German Civil Code.
The purpose of the Foundation is to promote basic scientific research for the benefit of the general public.
The Foundation Act of North Rhine-Westphalia and the statutes of the Foundation are authoritative for the Foundation. The Foundation is recognized as a non-profit corporation and receives institutional funding. The basis for this is Article 91b of the Basic Law as well as the Federal/State Agreement of 25 June 1970, the Framework Agreement on the Promotion of Research, and the Implementation Regulations of the Max-Planck-Gesellschaft (AV-MPG) of 28 October 1976 and 17 December 1976. Applications for public funds are made in a consortium of applicants with the Max-Planck-Gesellschaft zur Förderung der Wissenschaften. The Foundation is a member of the Association of German Foundations.