Authored by Prof. Manfred T. Reetz, the book entitled "Directed Evolution of Selective Enzymes: Catalysts for Organic Chemistry and Biotechnology" has appeared in November 2016 as a Wiley-VCH monograph.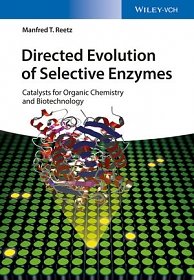 The group of Manfred T. Reetz pioneered the concept of directed evolution of stereoselective enzymes as catalysts in organic chemistry here in the MPI für Kohlenforschung in the 1990s. Today it constitutes a prolific and never ending source of selective catalysts. This approach to asymmetric catalysis has been applied numerous times by academic and industrial groups in the synthesis of chiral compounds for various pharmaceuticals, but recently also in such applications as vaccine production.
The monograph begins with an introduction and the history of directed evolution, and includes seven further chapters which focus on methodology development, strategies for navigating in protein sequence space, applications, thermostabilization, artificial metalloenzymes, and mechanistic insights gained in this continuously expanding research area.
The monograph is at disposal in the library of the Max-Planck-Institut für Kohlenforschung.
Further informatione can bei found here.