Claudia Weidenthaler now an Associate Professor
University of Duisburg-Essen honors Max Planck scientist
PD Dr. Claudia Weidenthaler has been collaborating with colleagues at the University Duisburg-Essen for years. Now she has been officially appointed as Associate Professor.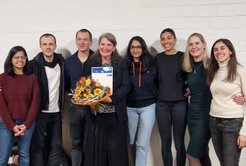 The University of Duisburg-Essen has now officially appointed PD Dr. Claudia Weidenthaler, group leader at the Max Planck Institut für Kohlenforschung, as an Associate Professor. An external evaluation commission had reviewed the scientist's work after the faculty's proposal. The university's rectorate approved the appointment. "This is a great recognition for my work, I am very happy about it," Claudia Weidenthaler explains.
A native of Bavaria, Weidenthaler studied geology, mineralogy and crystallography at the University of Würzburg. She completed her doctorate under Reinhard X. Fischer at the University of Mainz. Positions as a research associate at the Universities of Bremen and Frankfurt followed, before she moved to the Max Planck Institute in Mülheim as a scientist in 1999.
Engagement for Equal Opportunities
She heads the Powder Diffraction and Surface Spectroscopy group within the Department of Heterogeneous Catalysis. She has also been responsible for many years as an Equal Opportunities Officer and as coordinator for school collaborations at the MPI.
Claudia Weidenthaler has been closely associated with the University of Duisburg-Essen for several years now. In 2015, she completed her habilitation there (habilitation thesis: "Modern Powder Diffraction for Crystallographic Studies of Functional Materials"), she cooperates with colleagues at the university and regularly gives lectures for undergraduate students.