Great honor for Claudia Weidenthaler
Group leader of the Kohlenforschung receives the Agricola Medal of the German Mineralogical Society
The German Mineralogical Society has awarded the Agricola Medal to Prof. Dr. Claudia Weidenthaler, group leader at our institute.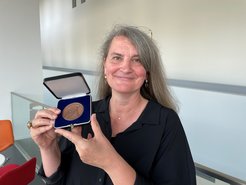 Physician and pharmacist Georg Bauer was born more than 500 years ago in Glauchau, Saxony. However, many people probably know the extraordinary scientist, also known as the "father of mineralogy", by his Latinized name Georg Agricola. The German Mineralogical Society named its Agricola Medal after him.
This medal is awarded to outstanding scientists for their achievements in the field of applied mineralogy. This year, the prestigious award went to Prof. Dr. Claudia Weidenthaler, group leader in the Department of Heterogeneous Catalysis at the Max Planck Institut für Kohlenforschung.
According to the DMG, Claudia Weidenthaler deserved the award for her outstanding work in elucidating the structure-property relationships of functional energy materials using in situ diffraction and spectroscopic methods.
Unconventional combinations
Among other things Claudia Weidenthaler has contributed significantly to the understanding of complex aluminum hydrides as storage devices. Moreover, her unconventional combination of mechanosynthesis with simultaneous X-ray diffraction at synchrotron has provided detailed insights into mechanisms of solid-state synthesis, their kinetics, and structural and microstructural changes.
Claudia Weidenthaler was born in Bavaria. She studied geology, mineralogy and crystallography at the University of Würzburg. She completed her doctorate with Reinhard X. Fischer at the University of Mainz. Positions as a research assistant at the Universities of Bremen and Frankfurt followed, before she moved to Mülheim in 1999.
At the Max Planck Institute, Claudia Weidenthaler works as the head of her own research group while also performing analytical measurements for other colleagues in experimental chemistry. In September 2022, she was appointed Associate Professor at the University of Duisburg-Essen.
Beyond her scientific work, Claudia Weidenthaler has been involved at the MPI for many years as an equal opportunities officer. She also coordinates the institute's school collaborations and is the driving force behind the institute's long-established, highly successful "Girls' Day".