German Zeolite Conference 2021 will take place on March 10 - 11 as an online-conference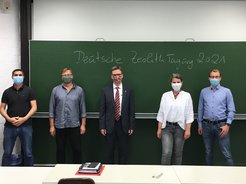 Die 32rd German Zeolite Conference is organized jointly by scientists of the Max-Planck-Institut für Kohlenforschung and the University Duisburg-Essen in close collaboration with the DECHEMA e.V.
Due to the Corona pandemic, the conference is an online event, taking place on March 10-11, 2021. The program covers the areas Catalysis, Adsorption, Microporous Materials, and Mesoporous Materials.
Plenary lectures will be given by Prof. Gonzalo Prieto (ITQ, Polytechnical University, Valencia, Spain, Prof. Phillip Llewellyn (Total, France), Prof. Svetlana Mintova (CNRS, Caen, France), and Prof. Freddy Kleitz (University Vienna, Austria).
Further details at https://dechema.de/DZT2021.html