May we introduce: female scientists at the MPI für Kohlenforschung.
Two female staff members from the MPI für Kohlenforschung talk about their way into the job.
The MPI für Kohlenforschung strives to achieve a balance in the employment of men and women at the Institute. However, the number of applicants shows that fewer women than men still choose a career in scientific research. Initiatives such as Girls' Day, which is aimed at motivating girls to pursue a scientific or technical career, are therefore popular and widely implemented at the institute.
We asked two female researchers of our Institute why they chose a job at the MPI and what their background was like.
---
She works on the development of catalysts for sustainable chemical processes: Dr. Hilke Petersen, post-doctoral fellow in the research group of Powder diffraction and Surface Spectroscopy at the MPI für Kohlenforschung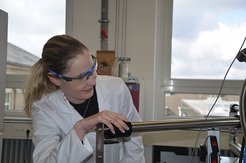 Hilke Petersen grew up at the Danish border and studied chemistry in Bremen. As a teenager, she wanted to become a chemist or pilot, but decided to study chemistry due to a few centimetres of height shortage. Even during her school years, the 31-year-old had an affinity for natural sciences, which was encouraged by her teacher with many interesting practical exercises. "The fact that careers in the natural sciences should only be something for boys is actually an "image problem" in my opinion. Schools should encourage pupils to consider all possible career paths regardless of their gender," Hilke says.

The chemist likes to think back to her student days. Even if it was not always easy. "It can happen that you fail an exam or suffer other setbacks. But one learns from such experiences and it is worthwhile to carry on," says Hilke Petersen. Her time at the university has given her the ability to work independently and she has made many friendships which she still benefits from as contacts in her job. During her studies, Hilke completed various internships and participated in Germany-wide excursions to potential employers, summer schools and workshops in order to further her education and find her desired field of work.

Currently Hilke Petersen is working as a post-doctoral researcher in a research group where she is investigating the course of catalysis processes. What she appreciates most about her work is that it is varied and unpredictable, and that new research questions arise during her work. Her goal is to improve catalytic converters used, for example, in cars or in the chemical industry, so that CO2 can be reduced.

Hilke Petersen advises young women:
"Just go ahead and follow your curiosity. And if things get difficult at school or university, don't let yourself be intimidated by setbacks, but look for help and accept it. In addition, take advantage of all offers to get to know professions that interest you. The Chemistry Day or Girls' Day will give you good first impressions".

Here you can also find a (German) text on Veronia Dietl, working as a laboratory assistant in the gas chromatography.
She analyzes a wide variety of samples from the institute
Veronika Dietl, laboratory assistant in the service department gas chromatography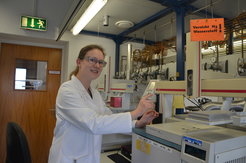 Veronika Dietl has completed a 3 year apprenticeship as chemical laboratory assistant at the MPI für Kohlenforschung. Already at school, the now 26-year-old could imagine taking this path. She was inspired by her mother's example – she also works as a laboratory assistant - and through visits to open days. An internship consolidated her decision to start an apprenticeship.
Veronika was very satisfied with her training at the MPI, as she was given many insights into practical work at an early age and a lot of emphasis was placed on precise analytical work. Looking back on her apprenticeship, she fondly recalls above all the practical lessons (Werksunterricht) that deepened the theoretical knowledge of her and her fellow apprentices. "Factory training at the MPI is a special offer that often enabled us to stay one step ahead of trainees from other companies or institutes," she says.
The chemical laboratory assistant is currently working in the Central Analytical Department Gas Chromatography, where she examines a wide variety of samples from all over the institute. She appreciates the varied and free work and the exchange with the different cultures that enrich everyday research at the MPI. "I liked English at school and enjoy very much communicating in English with people from different nations and to work together on projects". Veronika is about to graduate as a chemical engineer. This is a four-year advanced training course which she will complete at evening school. She sees the technician as a promising alternative to university studies, especially for young women who are uncertain about studying and would prefer to continue their education after completing an apprenticeship. "As a technician, I can take on more advanced tasks, such as responsibility for special analysis equipment," she explains.
Veronika's tip to girls who can imagine a scientific career:
"Be open to new things and not afraid of challenges. The required chemical knowledge is explained from the ground up, so that even those who only have basic knowledge but have the interest and willingness to get involved in the profession of chemical laboratory assistant can choose the profession".