Fascinated by Natural Sciences 
Minerva's daughters: Sandra Klimmek works as technician at the institute
Sandra Klimmek has always been fascinated by Natural Sciences. But jobwise, her mother-in-law gaveher the decisive push in the right direction.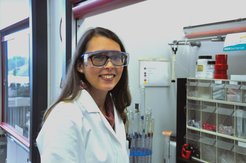 Sandra Klimmek works as a technician in the liquid chromatography department. Specifically, she is responsible for micro-preparative separations of natural substances, among other things, so that they can be usedfor further analysis.
What brought you here? Tell us about your way to the Kohlenforschung!
Sandra Klimmek: My mother-in-law gave me the decisive push in the right direction (laughs). After I graduated from high school, she sat down with me to discuss what I wanted to do. Natural sciences have always fascinated me; as a child, I loved museums where you could do your own experiments. My mother-in-law picked out a few suitable job ads for me, including one from the MPI. I applied and was accepted. That was in 2011.
What do you like about your work?
Sandra: Every day brings new challenges. The quantities that come out in the experiments of colleagues in the experimental departments can be incredibly small. Sometimes I only get 1 mg of a sample. It is not always easy to develop a suitable method from this and then isolate it preparatively. However, when I succeed, I am very pleased. Over the years, I have also learned that there is a solution to every problem. You just have to find the right way to get there. That's challenging, but it's also a lot of fun.
What are your professional goals?
Sandra: Professionally, I just want to stay on track. Chemistry is becoming more complex, which then naturally also affects the samples we work on. So you can never sit back and relax, there is always something new to learn. At the same time, I also want to find enough time besides work to do sports, learn languages and travel.
What has been your most difficult step so far?
Sandra: For me, deciding what to do after my apprenticesip wasn't easy. I was faced with the question of whether I wanted to study for a degree or whether I would prefer to attend technical school. I opted for the part-time technical school. It was quite exhausting, but it was worth it. I learned a lot at the school in Bochum.
Who is your Role Model?
Sandra: I admire women who have fought for equal rights - and do today. However, I do not have a specific role model. I am grateful to all the people who have made me the person I am today. They are, above all, my family and my friends.
What is your advice to young girls interested in a job in a scientific institution?
Sandra: Dare to get involved in the natural sciences and always be fascinated! Do what you like and do not let anyone tell you what to do!
If you had one wish: What would it be?
Sandra: With all the bad news, I have only one wish: a healthy world in which we can all live peacefully and contentedly.