PD Dr. Harun Tüysüz receives German-French Research Prize "Forcheurs Jean-Marie Lehn Prize 2020"
PD Dr Harun Tüysüz is awarded the Forcheurs Jean-Marie Lehn Prize 2020 together with his collaborator Prof. Dr. Joseph Moran (University of Strasbourg, France) due to their achievements in the field of CO2 fixation in the context of "Origin of life". In their joint project, together with Prof. Dr. William Martin, they have demonstrated the role of catalysis under hydrothermal vent and deep earth conditions to connect inorganic reactants with organic products at life's origin. Their joint results were recently published in the journal Nature Ecology & Evolution where they indicated that three hydrothermal minerals—greigite (Fe3S4), magnetite (Fe3O4) and awaruite (Ni3Fe) catalyse hydrogen dependant CO2 reduction at 100°C under alkaline aqueous conditions. The obtained product spectrum includes formate, acetate, pyruvate, methanol, and methane. These findings shed light on both the geochemical origin of microbial metabolism and on the nature of abiotic formate and methane synthesis in modern hydrothermal vents.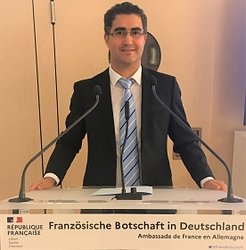 About Forcheurs Jean-Marie Lehn Prize
Since 2017, the French Embassy in Germany and the Franco-German University, in partnership with Sanofi Germany and BASF France, have organized the annual award of the FORCHEURS-JEAN-MARIE LEHN Prize to a Franco-German tandem of young researchers in recognition of their outstanding cooperation in the fields of chemistry, health and pharmacology. The prize is under the patronage of the French Professor Jean-Marie Lehn, Nobel Laureate in Chemistry in 1987, and is worth €10 000 per winner.
The awarding ceremony took place in the French Embassy in Berlin in the presence of numerous representatives of the French Embassy, BASF, Sanofi, and the Franco-German University on 29 September. Nobel Laureate Jean-Marie Lehn was also connected via video message from Strasbourg. More information on the prize and ceremony can be here: https://www.dfh-ufa.org/blog/der-preis-forcheurs-jean-marie-lehn-2020-geht-an-die-chemiker-joseph-moran-und-harun-tueysuez