Call for nominations for the Ernst Haage Prize in Chemistry 2022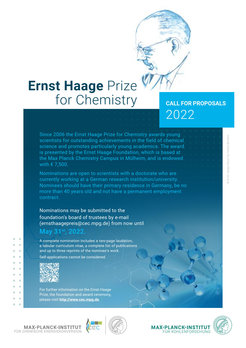 This year, the Ernst Haage Foundation of the two Max Planck Institutes in Mülheim is once again offering the Ernst Haage Prize for Chemistry. The prize is aimed at scientists with a doctorate from a German research institution/university who are honored for their excellent achievements in all basic research areas of chemistry. It is endowed with prize money of 7,500 euros.
Nominations may be submitted to the Foundation's Board of Trustees by e-mail.
Deadline for nominations: May 31st, 2022.
E-mail: ernsthaagepreis@cec.mpg.de
Nominees should have their primary residence in Germany, be no more than 40 years old and not have a permanent employment contract.
More information on the call for nominations, the Ernst Haage Foundation and previous award winners can be found on the website: https://www.cec.mpg.de/en/institute/ernst-haage-award
The award ceremony will take place during the Ernst Haage Symposium on November 4th, 2022 at the Max-Planck-Institut für Kohlenforschung in Mülheim an der Ruhr.