Minerva's daughters do their thing
Rebecca Witschel works as head of the institute's warehouse
She started her worklife as a lab technician, now she is - among other things - responsible for purchasing our chemicals. Meet Rebecca Witschel, head of the institute's warehouse.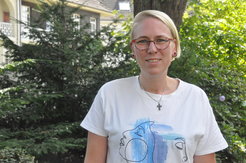 Rebecca Witschel has been working in the institute's warehouse since June 2015, where - among many other things - she takes care of purchasing our chemicals. Since June 2023, she has officially taken over the management of the warehouse.
What brought you here? Tell us about your way to the Kohlenforschung!
Rebecca Witschel: After graduating from high school, I was trained as a chemical lab technician at Eon. After that, I worked in this field at Bayer. When my first daughter was born in 2006, I took parental leave - which was then extended by the birth of my second daughter. After working in the area of media design in the meantime, I actively looked for a job in chemistry in 2015. That's when I found out about the institute. At the time, a position in the warehouse was open. I applied and got the job.
What do you like about your work?
Rebecca: I am a very structured person who always plans very carefully and I like to act on my own responsibility. That suits me very well in my life as a mother of two daughters, whom I raised alone for a long time. However, that is also a big advantage here at work, which I like. I also like the nice atmosphere at the institute, the friendly colleagues. Moreover, even if you think that many things are routine here in the warehouse, there are always new challenges that we master together.
What are your professional goals?
Rebecca: With my team, I would like to make the warehouse fit for the future. We want to push communication with the scientific departments even further. I also think it is important to keep up with the times - in other words, to get involved in digitalization, too.
What has been your most difficult step so far?
Rebecca: After separating from my ex-husband, I had to look for a permanent job. That was not easy, because my two daughters were in elementary school and kindergarten. To provide care for the children in the early morning hours and in the afternoon was a challenge, also financially. Nevertheless, we managed it well, my daughters made it very easy for me. In addition, my colleagues were very understanding when I had to look after the children at times. I am very grateful for that.
Who is your role model?
Rebecca: Elizabeth II, Queen of England, has always fascinated me. This woman had to shoulder an enormous responsibility at a very young age, and she managed everything very well, right from the start. Of course, no one is faultless, but I think Elizabeth did many things right. As a young woman, she earned the respect of many men. She worked as a car mechanic as a young woman. That impressed me very much. In all that she had to do and all that happened around her, she always kept her sense of humor.
What advice would you give to young girls who are interested in working in a scientific institution?
Rebecca: If girls are interested in science, they should definitely get a taste of the field. For example, in an internship. Then, if they then find that they really enjoy the work, they should not be put off - even if people say it's too hard. You cannot let it get you down. Even if it's difficult sometimes, you just have to push through. However, it is very important not to let anyone tell you what to do, but to make your own decisions. Do your thing!
If you had one wish: What would it be?
Rebecca: I'd wish for good health for my family and myself, because that's the most important thing in life for me. This is what I have learned, especially in the last few years, through several incidents in my immediate family and circle of acquaintances!