Julius Hillenbrand gewinnt den Thiel Award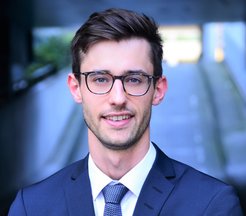 Der diesjährige Thiel-Award geht an Julius Hillenbrand aus der Abteilung für Metallorganische Chemie. Der "Thiel-Award" wurde ins Leben gerufen, um den wissenschaftlichen Nachwuchs zu fördern und ehrt die beste Veröffentlichung eines Jahres zum Gedenken an den emeritierten Direktor, Prof. Dr. Walter Thiel, der im Jahr 2019 unerwartet verstorben ist.
Der Preis würdigt die wissenschaftliche Arbeit an "Canopy Catalysts" für die Alkinmetathese und resultiert aus der erfolgreichen Zusammenarbeit mehrerer Abteilungen. Die Veröffentlichung erschien vor kurzem in der Fachzeitschrift "Journal of the American Chemical Society" und markiert einen wichtigen Meilenstein auf dem Gebiet der Alkinmetathese.
Aufgrund der Coronapandemie werden die Preisverleihung und die wissenschaftliche Präsentation auf das nächste Jahr verschoben.