Dr. Josep Cornellà honored with the Bayer Early Excellence in Science Award 2020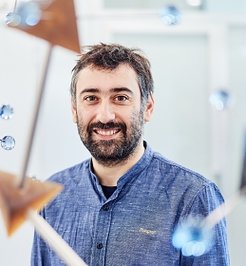 Dr. Josep Cornellà, research group leader at the Max-Planck-Institut für Kohlenforschung receives the Bayer Early Excellence in Science Award 2020 worth EUR 10,000. With this international award, the Bayer Foundation annually honors outstanding young scientists in the early stage of their career. The Independent Bayer Foundation Science Council selected Josep Cornellà from a large number of nominations. He is already the third up-and-coming scientist from the Mülheim MPI honored for the Chemistry category since the award was announced in 2009. The criteria for the award are the quality and originality of the research and the significance of the research results.
Josep Cornellà convinced the jury with his innovative research on the design and application of catalytic strategies in organic synthesis. In particular, the panel highlighted his approach to methodically develop new catalytic systems based on non-toxic elements that are abundant on earth and easily accessible.
About Dr. Josep Cornellà
Josep Cornellà, born in 1985, studied chemistry at the University of Barcelona, where he obtained his Master of Science degree in 2008. He obtained his PhD at Queen Mary University in London and went for a postdoctoral stay to the Institute of Chemical Research (ICIQ) in Tarragona, Spain, in 2012. In 2015, he moved to the renowned The Scripps Research Institute in La Jolla, California as a postdoctoral researcher. In 2017, Josep Cornellà came to the Max-Planck-Institut für Kohlenforschung and built up his independent research group "Sustainable Catalysis for Organic Synthesis". The team focuses on the development of new, sustainable and practical processes with the aim of finding fast and efficient ways of organic synthesis. The group is investigating the redox properties of nickel and bismuth with regard to their transformative chemical reactivity and suitability for use as catalysts. So far, they have already been able to decipher some unforeseeable catalytic processes and Josep Cornellà received several important awards for his work, including a highly remunerated ERC-Starting Grant from the European Commission.

About the Bayer Early Excellence in Science Award
The Bayer Foundation´s "Early Excellence in Science Award" has been presented annually since 2009 and is endowed with EUR 10,000 each. The foundation's Science Council, newly established in 2020, assesses the originality and quality of the research and the significance of the results for the respective category. In 2020, in addition to Dr. Josep Cornellà for the Chemistry category, prizes were also awarded for the Biology category (Dr. Julia Mahamid, European Molecular Biology Laboratory, Heidelberg), the Medicine category (Dr. Nicolai Franzmeier, LMU Munich), and in the Data Sciences in Life Sciences category (Dr. Marinka Zitnik, Harvard Medical School, Boston). Due to the corona pandemic, the Bayer Foundation will present the awards in person at an official ceremony in spring 2021.
Link to the post of the Bayer Foundation