Swapping the school bench for the lab bench: seven new apprentices have started their apprenticeship at the Kohlenforschung
New supervisor of the apprentices: Laila Sahraoui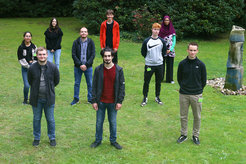 Seven new apprentices started their professional future at the Max-Planck-Institut für Kohlenforschung today full of anticipation. Training manager Laila Sahraoui welcomed the new apprentices, whom she is supervising as successor to Petra Wedemann, who was responsible for the training during the past 17 years. "This day is always very special not only for the apprentices but also for the institute and us trainers," Sahraoui tells us. "We get to know each other, visit the new workplace and set the preconditions for a good and successful cooperation in training."
The trainees experience a lot of new things on their first days at work: safety briefing, introduction to the youth and trainee representatives, come-together with the trainees from the neighboring institute and a photo session are on the agenda. Initial experiments in the teaching lab and an explanation of accident hazards in the workplace round off the program. "Our trainees are swapping the school bench for the lab bench and will also be working with hazardous substances in the future," explains Sahraoui. "Safety is the top priority, and the right behavior must be practiced from the very beginning."
The MPI für Kohlenforschung relies on a strong in-house skilled workforce and offers modern training at the highest technical level. Trainees are involved in research projects, learn complex analytical techniques and receive practical instruction in the institute's own teaching laboratory as a preparation for their exams. "We place great emphasis on good basic training. This includes the teaching of special modules for chemistry or physics lab technicians, which complements vocational school teaching. The theory is a useful addition for our trainees and gives them an advantage that they can build on," explains Sahraoui. Trainees from the neighboring institute and from external companies also take part in the lessons.
The Max-Planck-Institut für Kohlenforschung is the largest trainer in the field of laboratory professions in Mülheim an der Ruhr. On September 1, seven young people will start their training at the institute, four of whom will go to the chemistry lab, two to the physics lab and one apprentice will be trained as an industrial mechanic by the institute's own precision mechanics. More information on training and application process can be found here.