Support in the pandemic crisis: MPI für Kohlenforschung produces hand disinfectants for the city of Mülheim an der Ruhr  
Mülheim rescue and health service receives around 2,500 litres of hand disinfectant per week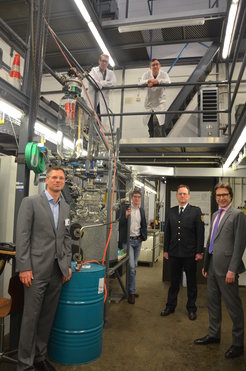 In the current pandemic crisis, the Max-Planck-Institut für Kohlenforschung has been contributing for about two weeks now by producing disinfectants for the Mülheim rescue and health service. The hand disinfectants, which are currently difficult to obtain, are produced in the institute's pilot plant under the direction of Dr. Nils Theyssen. Chemical technician Niklas Fuhrmann and laboratory technician Daniel Dotzauer have been assigned to ensure that about 500 litres of disinfectants can be produced daily from isopropanol, hydrogen peroxide, glycerine and water according to the specified recipe.

"The idea for the production of hand disinfectants came from the staff," says Nils Theyssen: "Our company health manager first had the idea of producing disinfectants according to established recipes for the institute. The proposal was submitted to Professor Ritter at the beginning of March and immediately met with the approval of the management. It was then Professor Ritter who later proposed a production for the Mülheim hospitals and thus initiated the coordination process with the various local authorities. Within two days, the institute received approval and since then, the cooperation with the city of Mülheim and the Mülheim fire department has been ongoing.

The institute management decided to produce and donate the first 1,000 litres of hand disinfectant from still existing laboratory substances. The further production will be based on basic substances supplied to the MPI by the professional fire brigade. "Procuring the necessary chemicals and the 10-liter canisters was very challenging in the current situation," says Nils Theyssen. Thanks to good contacts and a great deal of commitment, the task was successful, so that 1,000 canisters are now available for filling for the next weeks.

The city of Mülheim is very happy about the cooperation. The crisis management team quickly decided that in the current situation, in-house production was the best and safest way to guarantee supplies for the rescue and health services. The head of the Mülheim Crisis Staff, City Director Dr. Frank Steinfort, visited the MPI these days together with Sven Werner from the fire brigade and expressed his great thanks to the institute. For Professor Tobias Ritter, moving closer together during the crisis is a matter of course: "With our expertise and equipment, we can produce hand disinfectants very well in accordance with the strict requirements of the Federal Institute for Occupational Safety and Health and are pleased to be able to make a contribution against bottlenecks during this time".