Tobias Ritter announced
as author of "top read" article
JACS: Scientists of the Kohlenforschung publish most frequently read article
A paper published by Tobias Ritter has been downloaded more frequently than any other article in the Journal of the American Chemical Society.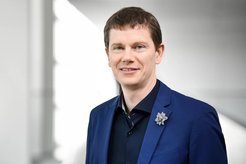 With one of his papers Tobias Ritter, director at the Max Planck Institut für Kohlenforschung, has won particular recognition in the scientific community. The article was published in the "Journal of the American Chemical Society" (JACS) in May 2021 and has more hits than any other article published within the last twelve months.
In their work "Trifluoromethyl Thianthrenium Triflate: A Readily Available Trifluoromethylating Reagent with Formal CF3+, CF3•, and CF3– Reactivity" Tobias Ritter and his research group introduced a new reagent that can support the discovery of pharmaceuticals.
The work has been downloaded about 30,000 times, making it the most frequently read article of the last year. For comparison: The second most downloaded text has been accessed about 26,000 times.
JACS was launched in 1879. Together with "Nature" and "Science" it has become one of the most important scientific magazines for chemists due to its high impact factor. The periodical is devoted to the publication of fundamental research papers and publishes approximately 19,000 pages of Articles, Communications, and Perspectives a year.