Joint team Fürstner-Ritter wins Merck Compound Challenge 2020
Team finds short and efficient way to Melongenaterpene A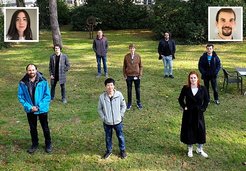 https
For two years now, Merck has been calling for its Merck Compound Challenge every year. Interested young researchers can apply to propose an optimal synthesis pathway for a given small molecule. They have 96 hours to work out their proposal. The best submissions are preselected and tested by a Merck team in practice. The winner of this year's Merck Compound Challenge is a joint team of PhD students and postdocs from the Fürstner and Ritter departments. They share the prize of EUR 10,000 with a team from the Arnold group of the California Institute of Technology.
On a Friday in February of this year, the Fürstner-Ritter team received the small target molecule, melongenaterpene A, which was first isolated from the roots of Solanum Melongena in 2019. The researchers could now use their experience from laboratory and literature research to propose an optimal pathway for the total synthesis of melongenaterpene A.
Their path, submitted 96 hours later, comprised seven steps and was based on a Diels-Alder key-step. After the submission, the team participated in the evaluation process, as all 132 routes were anonymously placed in an evaluation pool and evaluated by the teams themselves. In the end, the synthesis route that went furthest and showed the best yields – also in laboratory tests - was selected. Merck decided on two winners, who share the prize: Team Fürstner-Ritter and the Arnold team from Caltech. This is already the second time that a Kohlenforschung Team wins the Merck Compound Challenge, because in 2019 it also went to a Team of the Fürstner Group. The following members of Team Fürstner took part in the challenge: Dr. Paola Caramenti, Stephan Hess, Ektoras Yiannakas, Dr. Marco V. Mijangos, Dr. Romain Melot, Dr. Sorin-Claudiu Rosca, Dr. Zhanchao Meng and Dr. Laura Salacz. From the Ritter Department: Dr. Florian Berger and Dr. Johannes Lehmann.
More information to the compound challenge can be found here.
twitter.com/HartungIngo/status/1333425020878675970?s=20