Young researchers work for a better future
Four chemists of our institute have won prestigious funding by the European Commission and the Alexander von Humboldt Foundation. 
The Marie Curie Fellowships of the European Commission and the Research Fellowship of the Alexander von Humboldt Foundation are highly sought after among scientists. We spoke with four young people who successfully applied for the financial support.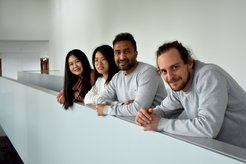 Scientists from more than 35 different countries work at the Max-Planck-Institut für Kohlenforschung in Mülheim an der Ruhr, many of them as Doctoral or Postdoctoral Students. But what is it that brings young people from all over the world to spend some years at a research institution in Germany? We spoke to four young chemists from four different countries.
Davide Spinnato from Italy and Jinsun Lee from South Korea recently won the prestigious Marie Skłodowska-Curie Postdoctoral Fellowship of the European Commission. Yanyan Duan from China and Ashwani Kumar from India were recently awarded the Alexander von Humboldt Research Fellowship, no less competitive than the Marie Curie funding.
Passion for Bismuth Chemistry
"I always found chemistry was fun when I was at High School", says 31-year old Davide. For him it was clear: He wanted to go to university, to be educated, "and I wanted to have fun while doing this." Davide was completing his PhD in Spain, while he came to Mülheim as a visiting student in the Group of Josep Cornellà. Right after his defense he decided to go back to Mülheim for a Postdoc. "During my PhD Pep came to give a talk at my previous institution and I fell for Bismuth chemistry". His project deals with the catalytic construction of C-N bonds that are widely found in drug candidates. The catalytic platform will leverage on the recently demonstrated ability of bismuth complexes to moonlight both as a noble or first transition metal, displaying reactivity in 1-electron and 2-electron processes at will.
Yanyan, 32 of age, joined the institute because she wanted to dive deeper into chemistry. During her PhD in Madrid she met Harun Tüysüz, group leader at the Kohlenforschung, during a seminar. "I saw many parallels and interdisciplinary studies in Harun's research and my research interests, and that is why I applied for the Humboldt funding", she says. Currently, her researches focus on the preparation and surface regulation of the novel lead-free all inorganic double perovskite and investigation their performance for photocatalytic reactions, like organic transformation and CO2 conversion. In addition, theoretical and in-situ spectroscopic investigations will also be applied to study catalyst-reactant interactions and the formation of intermediates.
Ashwani, 29, started his career in India, before he moved to South Korea for his PhD. "At school I always got good grades in science, especially in chemistry. This is why I followed that path." At the Kohlenforschung he started working on the "Carbon2Chem" project in the group of Harun Tüysüz, before he applied for his independent funding. He has been working as an experimental materials chemist (nanomaterials and electrocatalysis) for more than 6 years at three different world-renowned research institutions. With AvH fellowship, he will be exploring the exciting single-atom catalysts for green hydrogen production via water electrolysis, aiming to solve the global energy crisis. His research interest includes the synthesis and characterizations of single-atom catalysts, hybrid nanomaterials, water electrolysis for green hydrogen production and CO2/N2 electrolysis.
Chemists can help to tackle environmental problems
"Humankind is facing so many environmental problems and the demand for energy is still rising. I think as a chemist I can help to tackle those problems", says Jinsun, 31 years old. She conducted her PhD in Korea and wanted to gain experiences abroad, too. She is currently working in the group of Harun Tüysüz. "It is known in Korea that Max Planck institutes are among the best research institutions in Germany, even in whole Europe", she says. She has been working in the development of a new class of photocatalysts for solar conversion. Given the current global theme of development in CO2 reduction and sustainable energy utilization, she will keep designing new innovative systems and technologies to transform carbon dioxide (CO2) into value-added sustainable chemicals and materials under mild condition.
The Marie Skłodowska-Curie Actions of the European Commission received more than 7000 applications for the Marie Curie Fellowships in the last round. Only 1000 young scientists were awarded. The Alexander von Humboldt Stiftung states that only about 20 to 25 percent of the applications for a Humboldt Research Fellowship will be successful.
All four young researchers underline their gratefulness to their supervisors, Harun Tüysüz and Josep Cornellà, who gave them the opportunity to follow their projects at the Kohlenforschung. "Without their help we would not be here", they say in unison.