How much sugar can we find in Orange juice? 
More than 30 schoolgirls learn how to work in a laboratory on Girls' Day 2023
31 schoolgirls from the Ruhr region take a closer look at the Max Planck Institut für Kohlenforschung on Girls' Day. They visit the laboratories and the workshops.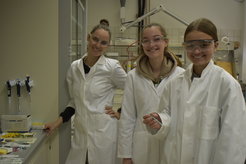 Even if some of them have significantly better grades than their male classmates: Girls in Germany still disproportionately choose "typically female" jobs. This can be seen in recent figures of the German Federal Statistical Office. According to these figures, more than half of the girls choose from just ten different occupations. None of those are related to science or technology.
"For us, this makes it clear why Girls' Day must continue to exist," says Prof. Dr. Claudia Weidenthaler, group leader and equal opportunities officer at the Max Planck Institut für Kohlenforschung. The scientist has been organizing the Girls' Day at the Mülheim institution for many years - with success. This year, 31 middle school girls visited the institute.
In the laboratories as well as in various workshops the girls were able to prove that they are just as capable of performing in so-called "male professions".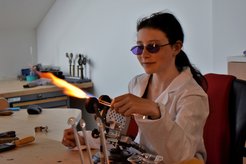 Under the guidance of technicians and scientists from the institute, they analyzed the sugar content of orange juice, using nuclear magnetic resonance spectroscopy. In the gas chromatography department, they checked whether supposedly alcohol-free soda is actually alcohol-free.
For many workers, being able to make something themselves is what makes craftsmanship so appealing - and this was also the case in the institute's own mechanical workshop and in the glassblowing workshop. Here, the girls designed their own key chains and made glass sticks for the next cocktail party. "It's really cool that we are not just watching but can make something ourselves here," said one of the young participants enthusiastically.
Jolina Keßler, a third-year apprentice at the institute, told the girls about the day-to-day work of the Kohlenforschung apprentices. She herself is a good example of why Girls' Day is an important institution. "I came here myself a few years ago for Girls' Day," she says, "and right after that day it was clear to me: I want to work here."