New podcast of the Max Planck PhD Network with Ferdi Schüth takes a look at the "Energy System in the Near Future"
The topic is more complex than ever: How do we succeed in moving away from fossil fuels and to renewable energies and, what role will hydrogen play in a future infrastructure.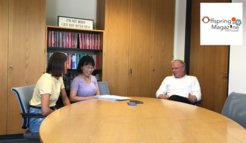 The new podcast episode of the Offspring Magazine – The podcast – of the PhD Network of the Max Planck Society, Professor Ferdi Schüth from the Max-Planck-Institut für Kohlenforschung is the guest. Schüth talks to PhD students Bea Lansbergen and Xiaoran Liu about his assessments, which are shaped by the chemist's perspective.

Part 1 and 2 of the conversation has now been published and can also be found at all podcast providers: https://www.phdnet.mpg.de/outreach/podcast
Spotify: https://open.spotify.com/show/0X3p9taR53UNyh9kYO4aqA
Apple podcasts: https://podcasts.apple.com/de/podcast/offspring-magazine-the-podcast-max-planck-phdnet/id1522509488
Google podcasts:
https://www.google.com/podcasts?feed=aHR0cHM6Ly9hbmNob3IuZm0vcy8xMTk4YjU3OC9wb2RjYXN0L3Jzcw==