MPI honors David Milstein as Karl Ziegler Lecturer
Israeli scientist presents research on environmentally friendly catalytic transformations.
David Milstein has given an exciting lecture as Karl Ziegler Guest Professor at the Max-Planck-Institut für Kohlenforschung. Young chemists in Mülheim enjoy discussing science with the renowned scientist.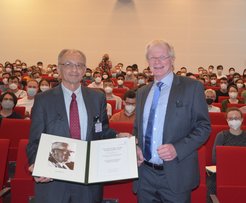 Sustainability is a key issue for chemical processes. Scientists focus their research interest on finding ways to avoid emissions or - even better - turn products back into ready to use chemicals after use. After all, efficient industrial processes are essential for solving climate issues and environmental problems - especially in times of limited resources. Catalysis research, as conducted by chemists at the Max-Planck-Institut für Kohlenforschung (MPI), can be crucial here as it leads to new reaction pathways and enables recycling on a molecular basis.
This year's Ziegler lecture on environmentally friendly catalytic reactions for organic synthesis and energy-related transformations given by Prof. Dr. David Milstein found great interest at the institute. The Israeli chemist from the Weizmann Institute of Science is currently visiting the Kohlenforschung as Karl Ziegler Guest Professor. In his main lecture he presented a whole range of interesting approaches that stand for efficient and environmentally friendly syntheses and strive to create a "circular economy". Milstein's team has not only succeeded in breaking down plastic waste into its building blocks with the help of catalysts, but also in producing new plastics from it. The Milstein group is also interested in finding solutions for hydrogen storage.
Originally planned for 2020, the visit of David Milstein had to be postponed due to the corona pandemic. But eventually, the traditional high-profile event on the Kahlenberg could take place. "David Milstein receives our award for his outstanding contributions to a whole range of topics in chemistry. We are very pleased to have him with us as he stands for top-class science with innovative approaches in sustainable chemistry," emphasized Ferdi Schüth, Managing Director of the Institute.
In his introduction, Schüth took a look at the research of Karl Ziegler, former institute director and Nobel laureate: "We all know Ziegler's catalysts and the Ziegler-Natta polymerization. But his "Aufbau reaction" also deserves attention, and only few people know that processes other than the polymerization, based on Ziegler's chemistry, are still used in industrial production around the world today, for example in the production of high-purity aluminum oxide," said Schüth - giving not only Milstein but also the many young scientists at the institute an exciting insight into the history of the Kohlenforschung and Karl Ziegler's work.
David Milstein has spent three days in Mülheim. His visit focused on the exchange with young colleagues - whether during an informal barbecue, during his office hours or during in-depth workshops. A podcast for the Max Planck Society's doctoral network was also created. "I am very grateful to encounter such an interested audience with so many smart questions here in Mülheim," Milstein had revealed during his main lecture.
The Karl Ziegler Lecture
The Karl Ziegler Guest Professorship of the Max-Planck-Institut für Kohlenforschung wants to keep Karl Ziegler's name and legacy alive, help to emphasize the importance of the scientific research of the institute, and - above all - it is meant to offer young researchers in Mülheim and surrounding universities exciting opportunities for exchange with top level scientists.
It is named after chemist and Nobel laureate Karl Ziegler. Ziegler was director of the Max-Planck-Institut für Kohlenforschung from 1943 to 1969 and made outstanding scientific discoveries during his career, such as a new class of catalysts for the polymerization of ethylene. This development was a break-through for the industrial production of plastics and earned Karl Ziegler the Nobel Prize in 1963.
The Karl Ziegler Lecture was established in 1978 after Ziegler's death by his wife and daughter. A separate foundation provides funds to enable scientists from all over the world to hold guest lectures at Ziegler's place of work. David Milstein is the 31st outstanding scientist to be honored with the Karl Ziegler Guest Professorship.
About David Milstein
David Milstein was born in Ulm/Germany in 1947 and moved to Israel with his parents in 1949. He graduated from the Hebrew University in Jerusalem and received his PhD in 1976 under Jochanan Blum. As a postdoctoral fellow he went to the United States and worked at Colorado State University with John Kenneth Stille. From 1979 to 1987, he was a chemist at DuPont in Wilmington, Delaware. He then turned to academia and went to the Israeli Weizmann Institute of Science in Rehovot. From 1996 to 2005, he headed the Department of Organic Chemistry. Until 2017, he also headed the Kimmel Center for Molecular Design which he founded. Today, he continues his research as professor emeritus at the Weizmann Institute.
Ferdi Schüth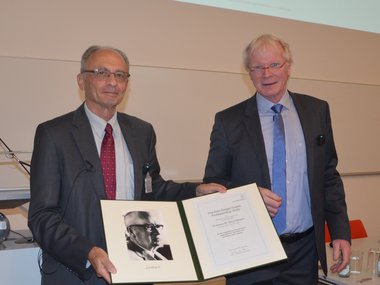 Award ceremony on May 31st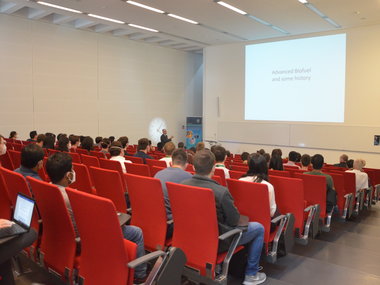 Seminar on June 1st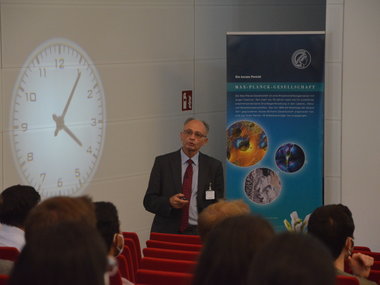 David Milstein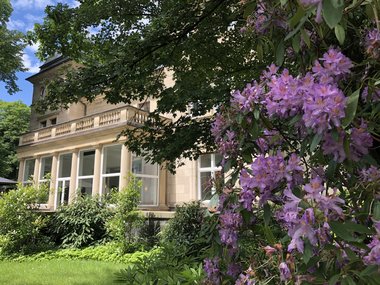 Reception in Haus Urge