Driven by curiosity: American Chemical Society's C&EN magazine selects Dr. Josep Cornella as one of the 2020's "Talented Twelve"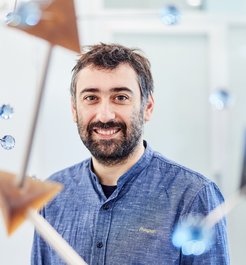 Dr. Josep Cornella's research on sustainable materials for organic catalysis has already attracted a lot of attention in professional circles. In particular, his investigations into the reactivity of bismuth attracted interest and earned the 35-year-old many awards and invitations to give lectures. Cornella was able to show that bismuth behaves like a transition metal in some reactions - although it does not belong to this group - and is highly reactive. As a result, it could replace expensive and rare transition metals used as components of new catalysts and thus make an important contribution to sustainable chemistry. Another exciting discovery by the Spanish researcher is an "oxygen-stable" nickel complex that stays stable for several days at room temperature and months in the freezer. The complex can be used to create active catalysts for more than a dozen reactions and would be a very useful tool for chemists. Cornella is currently in negotiations with a reagent company to make the patented catalyst available for chemists to buy.

The American Chemical Society (ACS) has also become aware of the Spanish junior researcher of the Mülheim MPI and has elected him with its journal C&EN (Chemical & Engineering News) into the best list of the "Talented Twelve 2020". C&EN identifies 12 young researchers each year as "Talented Twelve", who successfully and innovatively dedicate themselves to solving important global problems through chemistry. The magazine portrays the researchers and invites them to speak at C&EN's Futures Festival, a two-day virtual event about people, ideas and discoveries that will shape the future of science. Josep Cornella will talk about his research on 25 August.
Registrations for the free event can be made here.
The "Talented Twelve" of C&EN have prevailed among more than 500 nominees. https://cen.acs.org/people/profiles/CENs-Talented-12/98/i31
C&EN's "Talented Twelve" portrait of Josep Cornella can be found here: https://cen.acs.org/synthesis/Josep-Cornella/98/i31