Excellent apprentices at the Max-Planck-Institut für Kohlenforschung: Max Planck Society honors two laboratory chemists for their excellent results during their apprenticeship in Mulheim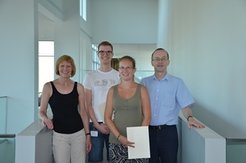 Excellent results in school, job and a strong social engagement - these are the criteria the Max Planck Society considers when granting its "Azubipreis" as an award for apprentices. This year two laboratory chemists from the Max-Planck-Institut für Kohlenforschung were honored: Veronika Dietl and Angus Rocha Vogel received the honoring which is endowed with 750 Euro.
The two were not only chosen because of their excellent results in school and their performance on the job. They also convinced the jury with their social skills and commitment. Veronika Dietl is representative of the group of apprentices and regularly organizes events for them. She also likes to represent the Institute on open house days - especially the department of chromatography she currently works in.
Angus Rocha Vogel also finished his apprenticeship at the Institute earlier because of his very good achievements. He is very committed at his church community, organizes intercultural meetings for young people and participates in projects for refugees.
"We are proud of the good achievements of our apprentices and are happy that the Max Planck Society has honored their dedicated work. We wish Mrs. Dietl and Mr. Rocha Vogel an interesting stay at our Institute and – in the long view – a successful job perspective or academic career", Prof. Alois Fürstner said when handing out the certificates to Dietl and Rocha Vogel.

Photo: From left to right: Petra Wedemann, Responsible for the apprentice program at the MPI für Kohlenforschung, Angus Rocha Vogel, Veronika Dietl and Professor Dr. Alois Fürstner, Managing Director at the Max-Planck-Institut für Kohlenforschung.