Experimental Lecture "Fire and flames - for Chemistry" on the Mülheim Open Air Stage on Saturday, September 10 th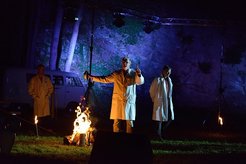 Stunning experiments, explosive content and interesting facts on Chemistry, that is what visitors get in the next Experimental Lecture of the Max-Planck-Institut on the Mülheim Open Air Stage on Saturday, September 10th.
Ferdi Schüth, Wolfgang Schmidt and Andre Pommerin will show that Chemisty can be very delightful and entertaining. The Experimental Lecture is free of charge and starts at the breaking of darkness at about 8:30 pm. The beer garden on the Freilichtbühne is opened before.
"Many people do not like to remember their chemistry lessons in school. We show that chemistry can be faszinating and entertaining.", Ferdi Schüth, Director at the Max-Planck-Institut für Kohlenforschung explained.
Please note, that the Experimental Lecture can only take place when the weather is dry. In case of rainy weather the event has to be cancelled. Information will be provided in in advance of the event on this homepage.
Photo: by Armin Röpell