Alois Fürstner holds "Bohlmann Lecture" at TU Berlin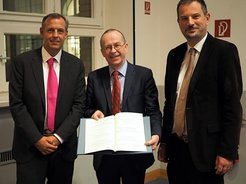 Professor Alois Fürstner, Director of the Max-Planck-Institut für Kohlenforschung, has held the renowned "Bohlmann Lecture" at the TU Berlin. In his presentation "Catalysis for Synthesis - Concepts and Scrutiny" he summarized his recent research in the area of catalysis, focusing on new methods for the functionalization of acetylene derivatives. Organometallic and mechanistic aspects were discussed and selected applications to natural product synthesis showcased the current state of development.
The Bohlmann lecture commemorates Professor Ferdinand Bohlmann (1921-1991) who led the Institute of Organic Chemistry of the Technical University of Berlin for a long time. Supported by the Schering-Foundation and the Bayer AG, the Bohlmann lecture is granted annually. The list of former awardees comprises many Nobel Laureates.
Photo: Professor Alois Fürstner (middle) together with Professor Roderich Süßmuth and Professor Martin Oestreich from TU Berlin.