In memory of Paul Karrer: Alois Fürstner gives Givaudan-Karrer-Lectureship 2018 at the University of Zurich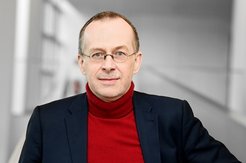 Every year, the University of Zurich invites a renowned visiting professor for the Givaudan-Karrer-Lectures on a special topic in chemistry. This lecture series commemorates the Swiss chemist and Nobel laureate Paul Karrer and will be held in collaboration with the Swiss company Givaudan, the world's largest manufacturer of fragrances and flavours.

This year, the Givaudan-Karrer guest professorship was bestowed upon Professor Alois Fürstner from the Max-Planck-Institut für Kohlenforschung. Fürstner will travel to Zurich for a total of six lectures in March to discuss important advances in the field of organometallic catalysis. He will present the mechanistic logic and discuss with the students the structure and bonding of reactive intermediates. His lectures also cover some selected applications of natural product chemistry, which illustrate the influence of these catalytic transformations on organic synthesis in general. The programme also includes a scientific lecture at Givaudan and a seminar at the University, during which a medal will be awarded by the Swiss Chemical Society. The detailed lecture dates and an overview of the previous Givaudan-Karrer guest professors can be found here.