Historical Archive of the MPI für Kohlenforschung donates valuable Bergius collection to Evonik Industries
Nobel Prize certificate handed over by Ferdi Schüth to Head of Research Andreas Fischer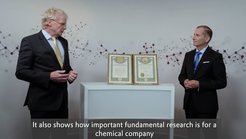 For his contributions to the development of high-pressure chemical processes, the Nobel Prize for Chemistry was awarded to Friedrich Bergius in 1931. Bergius had worked between 1914 and 1918 as head of research and deputy member of the Executive Board at Th. Goldschmidt AG, a predecessor company of Evonik Industries. The valuable certificate of this award lay well stored for a long time in the Historical Archive of the Max-Planck-Institut für Kohlenforschung together with several other documents of Friedrich Bergius. The former director of the institute, Günter Wilke, acquired part of the Bergius estate at the end of the 1980s in order to preserve this important part of chemical research history for posterity. 90 years after the Nobel Prize award to Bergius, the unique archive material is now going to Evonik Industries with a deposit contract.
"Similar to our first director, Franz Fischer, Friedrich Bergius also worked on the topic of coal liquefaction under high pressures," explains Christoph Kießling, head of the Historical Archive. "The process developed by Bergius is thematically close to the Fischer-Tropsch process developed at our institute. Apart from this, Bergius has no further connection to our house. It therefore made sense to pass on the valuable archive material to an institution more closely associated with Bergius," says Kießling.
Evonik's Corporate Archives showed great interest. Within the so-called Bergius Lecture which is part of the specialist event "Evonik Meets Science", Evonik promised to present the loan to the public. Prior to the Bergius Lecture, Evonik's Head of Research Andreas Fischer had received the valuable items from Ferdi Schüth. A film team documented the handover.
Andreas Fischer thanked the Max-Planck-Institut für Kohlenforschung for the generous donation and emphasized the longstanding good relationship between the two institutes. He explained that having a Nobel Laureate in one's own ranks is a weighty argument for attracting and retaining talent from the scientific community. Ferdi Schüth agreed that individual "beacons" attract talented young people and that a Nobel Prize winner in the company's history shows how important basic research is also for a successful chemical company like Evonik.
The collection consists of
the Nobel Prize certificate, 1931
Honorary doctorate from Harvard University, 1936
Honorary doctorate at the University of Heidelberg, 1927
Honorary Senator of the University of Heidelberg, 1926
Honorary doctorate at the TH Hannover, 1931
Honorary membership in the Physikalischer Verein, 1937
Liebig Memorial Medal, 1928
Honorary Medal of the Institute of Fuel, 1934
Wilhelm Exner Medal of the Lower Austrian Trade Association, 1937
Honorary membership in the Association for the Promotion of Trade, 1937
Please see further information and the film with the handover of the Bergius certificate here in our Youtube-Channel