Many citations: Frank Neese honored again
Director of the MPI für Kohlenforschung honored by Clarivate
Frank Neese, Director at the MPI and Head of the Department of Molecular Theory and Spectroscopy, is honored by Clarivate as a "Highly Cited Researcher".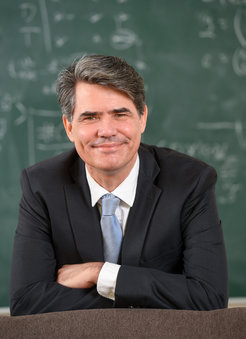 Each year, Clarivate Analytics recognizes researchers who have made a significant impact in their disciplines. "This select group contribute disproportionately to extending the frontiers of knowledge and gaining for society innovations that make the world healthier, more sustainable and more secure," Clarivate says in an official statement. Frank Neese, Director at the Max Planck Institut für Kohlenforschung and Head of the Department of Molecular Theory and Spectroscopy, is one of these researchers. He can now look forward to receiving the "Highly Cited Researcher" award - and not for the first time. Since the first evaluation by Clarivate in 2015, Neese has been honored every year in the field of chemistry.
Neese's international success is linked, among other things, to the rapidly growing demand for his ORCA program. ORCA is being developed at the MPI. It is a universal tool for quantum chemistry with a special focus on spectroscopic properties and metal ions - the latter are particularly difficult to describe, but they play a central role in catalysis and materials science. Academic use of ORCA is free of charge, for commercial purposes the program is marketed by the company FACCTS.
But how does one actually become a "Highly Cited Researcher"? Clarivate uses certain data provided by the Institute for Scientific Information to determine this. Specifically, this involves publications that are among the top one percent of citations in the Web of Science citation index by subject area and publication year. In total, Clarivate has awarded the title "Highly Cited Researcher" 7125 times this year, 254 of them go to chemists. Only ten of them are German.
The list is also sorted by country, research institution and university: Accordingly, most of the best-placed scientists come from the United States of America, followed by their colleagues from China. The German scientists are in fourth place after those from Great Britain.
In an international comparison, the Max Planck Society performs well overall: In the ranking of universities and research institutions, the MPG lands in tenth place. According to Clarivate Analytics, only American, British and Chinese universities are more influential within their community than the MPG.