Minerva's daughters: Optimistic for the future
Beatrice Lansbergen works as PhD student in the Department of Organic Synthesis 
Beatrice Lansbergen is a fourth year PhD candidate in the Department for Organic Synthesis with Prof. Dr. Tobias Ritter. She also plays an active part in the PhD Net of the Max Planck Society.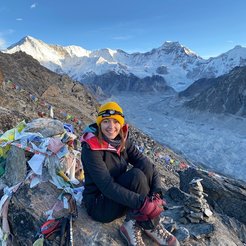 Beatrice Lansbergen is half-Italian, half Dutch, and she grew up in Germany and Austria. She studied Chemistry in the United Kingdom. She is a fourth year PhD candidate in the Department for Organic Synthesis with Prof. Dr. Tobias Ritter. She also plays an active part in the PhD Net of the Max Planck Society.
What brought you here? Tell us about your way to the Kohlenforschung!
Beatrice Lansbergen: I was working at Bayer in Frankfurt during my Master thesis. I talked to a lot to people about what to do after I received my Master, and many told me to apply for a position in a top group around the world, so I started looking for top groups whose work interested me. I found the Ritter group at the Kohlenforschung and applied. Luckily, I was accepted.
What do you like about your job?
Beatrice: I particularly like two aspects. On the one hand, there is the creativity and independence of my work. I am allowed to think creatively about the projects I want to pursue and am somewhat given the freedom to decide how I want to approach the problems we are trying to solve. This is great. On the other hand, there is the PhD net of the Max Planck Society, which is a great opportunity to explore interests outside of the institute. I am currently a host and the coordinator of the Offspring Podcast, where I host podcasts with great scientists both inside and outside the Max Planck Society.
What are your professional goals?
Beatrice: When I think of my career, some things are clear to me: I enjoy working hard, I want to solve hard problems, I like to think creatively about future technologies. Maybe a career in industry, for example my own Start-up company, could give me the opportunity to create something that doesn't exist yet today and can impact the way people live.
What has been your most difficult step so far?
Beatrice: I had some challenges in my life, yes. However, to be honest, I always had the impression that with the toughest challenges come the most rewarding and exciting experiences.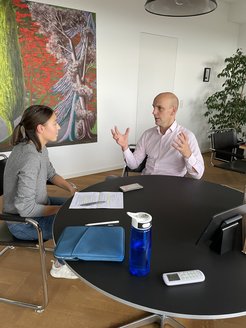 Who is your Role Model?
Beatrice: I do not have a certain person who I consider my role model. I take different characteristics and attributed from different people to form my own role model. When it comes to science, I really admire Marie Curie. She fought hard to achieve what she was passionate about, and she is a brilliant example of what resilience can bring you.
What is your advice for young girls interested in a job in a scientific institution?
Beatrice: Don't be afraid of uncomfortable situations! Explore your interests outside of the lab and your field of expertise. For example, if you enjoy chemistry try to expand your knowledge to other sciences as the work scientists do is becoming more and more interdisciplinary. Also, try to find activities you enjoy also outside of the laboratory. Work hard – hard work will bring you much further than you can imagine. And smile everyday – stay optimistic!
If you had one wish: What would it be?
Beatrice: I would love to live long enough to experience and see how the scientific technologies still at their early stages today will contribute to our lives in the future. Space-exploration, space-tourism, curing cancer, cell-cultured meat, AI, neuromorphic computing those are all areas with tremendous potential and I believe a very promising future. I mean: During the last 150 years we have achieved so much! Would it not be great to see where we will be in the future?
You can find out more about the "Offspring" podcast over here.