Minerva's daughters: From Kenya to the Kahlenberg
Salome Marenya supports scientists at the institute
Salome Marenya is a young woman when she first comes to Germany from her African homeland. But she overcomes her homesickness and quickly finds her feet. At the Max Planck Institute für Kohlenforschung she works on EU projects and in patent administration.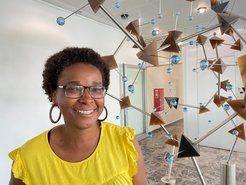 Salome Marenya has been working in the administration of the Max Planck Institut für Kohlenforschung in Mülheim an der Ruhr since 2010. She is responsible for international and EU projects and supports our scientists in particular with the financial processing of these projects. She also works in the institute's patent administration.
What brought you here? Tell us about your way to the Kohlenforschung!
Salome Marenya: I studied business management in Düsseldorf and worked for a consulting company for a short time after graduating. Then I spotted an ad for a job in the accounting department at Kohlenforschung and applied. I've been here ever since.
What do you like about your job?
Salome: It is very nice that I can work with so many people from many different countries. That is always exciting. For me personally, the flexible working time model is also very attractive because it allows me to balance my work and family life.
What are your professional goals?
Salome: I'm currently doing a course to become an EU officer. Applying for EU and third-party funding is becoming more and more complex, and there are always new rules and changes that we have to take into account. I would like to be able to support our scientists better.
What has been your most difficult step so far?
Salome: I came to Germany from Kenya as an au pair at the age of 21. That was not easy. I remember how my aunt - she was my contact in Germany at that time - picked me up at the airport. It was winter - and I was standing at the terminal with sandals on (laughs). I was homesick at first and felt very lonely. But after a while I settled in. I stayed and feel very comfortable.
Who is your Role Model?
Salome: My mother, who is unfortunately no longer alive, will always be my greatest role model. She was a very courageous woman. She had a permanent job and dared to take the step into self-employment. It was not easy. There were some setbacks. But she didn't give up, and in the end she succeeded as a tradeswoman with her own store. I think that is very brave.
What is your advice to young girls interested in a job in a scientific institution?
Salome: I would advise young women to be brave. There are good services and platforms nowadays that girls can use for themselves if they want to take a career path in science. These are great opportunities for women. Girls should take advantage of these offers.
If you had one wish: What would it be?
Salome: I wish that people would treat each other with more respect and tolerance.