Benjamin List is now a Honorary Citizen
Mülheim celebrates its Nobel Laureate in a special way
The city of Mülheim has honored Prof. Benjamin List as Honorary Citizen. This is a special moment for him, the chemist reveals.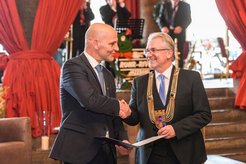 How are you actually supposed to do that - award the honorary citizenship to a Nobel Laureate? The city of Mülheim has now shown how such a thing is done on the Ruhr. In a dignified and yet relaxed setting, Benjamin List, Director at the Max Planck Institute für Kohlenforschung and Nobel Laureate in Chemistry 2021, was officially awarded honorary citizenship.
A relaxed event - that suits Benjamin List. "Ben has always remained himself in all the years I've known him. Even after he was awarded the Nobel Prize, he retained his human, approachable manner," explained Ferdi Schüth, Executive Director at the Kohlenforschung, in a discussion with Mülheim's Mayor Marc Buchholz. The latter emphasized what a great honor it was for him to award the honorary citizenship certificate to Benjamin List. "Many mayors are allowed to inaugurate ports, train stations or something like that. But by no means everyone can make a Nobel Prize winner an honorary citizen," Buchholz said.
Benjamin List himself was touched by the honor bestowed upon him. "This is really a big deal for me," he emphasized, describing in the triad of the true, the beautiful and the good what he particularly likes about his hometown, Mülheim an der Ruhr.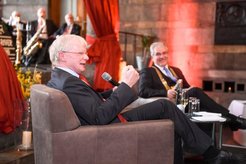 The true - for Benjamin List, that is everything he associates with the Max Planck Institute. "We scientists are on a quest for knowledge, for truth." When he looks out over the Ruhr Valley from his research group's 9th-floor seminar room, List says, he knows he does not want to be anywhere else in the world.
Speaking of the Ruhr Valley: "The Ruhr Valley makes Mülheim a fundamentally beautiful place," List thinks. He only wishes the city administration had the courage to set beautiful accents, for example through outstanding architecture. "That could have a catalytic effect on the city's infrastructure," List said, citing the "Bilbao effect" as an example, the targeted enhancement of places through spectacular buildings by renowned architects.
The good thing about Mülheim, List emphasized, is above all the people he has met here over the years. This applies to his colleagues at the MPI as well as to the people in the city. Even though it was not easy for him to leave the Southern California coast in 2003 to move to the Ruhr region: Since his arrival at the Max Planck Institute 20 years ago, he has long since truly settled in Mülheim.