How do we want to heat our homes in the future? 
Researchers from Mülheim work on sustainable solutions for heating oil boilers
The question of heating is becoming increasingly important in times of scarce resources and of global warming. Are oil heating systems still future-proof? Moreover, if so, can they be operated with efficient, sustainable fuels? Researchers are striving to make heating with oil more sustainable as well.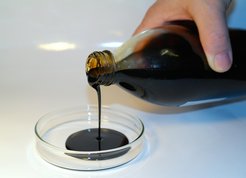 Are there stable and sustainable alternatives to traditional mineral heating oil? What happens when different types of fuels are stored together in a tank over a long period of time? Scientists at the Max Planck Institut für Kohlenforschung in Mülheim and OWI Science for Fuels gGmbH at RWTH Aachen University are investigating these questions as part of a new project.
According to the Federal Association of the German Heating Industry, there are 5.2 million heating oil boilers in the Federal Republic, the vast majority of which are old systems. "And we would like to see these systems become more sustainable without having to replace them immediately," explains Prof. Dr. Wolfgang Schrader, a chemist at the Max Planck Institute. One possible way to achieve this could be to modify the heating systems with minor technical adjustments so that, from now on, sustainable fuels go into the boiler or tank. However, due to the different nature of the oils, there are not only technical but also chemical pitfalls that need to be taken into account.
This is precisely where the new project comes in: "Traditionally, you fill up a heating oil tank with several thousand liters at a time," Schrader explains. But time passes before this enormous amount of fuel enters the burner. The oil ages and changes - especially with the involvement of oxygen from the air. "It's known that with mineral oil, after a while a regular sediment forms at the bottom of the tank," Schrader explains and continues, "What happens to the sustainable, paraffinic oils and mixtures with mineral fuel oils? Are there more or less of these sediments?". The question is relevant because precipitated solids could clog the tank - and that's what you want to avoid.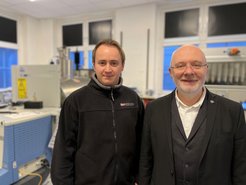 In order to be able to analyze the behavior of oils over time, the Mülheim researchers, together with their colleagues at OWI, are developing a method of artificially aging fuels faster. "Our colleagues from Herzogenrath are responsible for this artificial aging," Schrader reveals, "and we can use our analytical methods to easily understand whether and how the mixtures change over time."
Wolfgang Schrader is certain that sustainable heating oils have a future as fuels and can extend the life of heating systems while helping to reduce emissions. "Fortunately, we are long past the food-or-fuel discussion," he says. Whereas "first-generation" vegetable heating oils still required the use of raw materials that were food-grade, he said, better alternatives now exist as fuels, such as biomass from old cooking fats or algae-based oils.
The project of OWI gGmbH and the Max Planck Institute is funded by the German Federal Ministry of Economics and Climate Protection with a total of €500,000 and is scheduled to run for a total of 30 months.
The IGF project (22555 N) of the research association Deutsche Wissenschaftliche Gesellschaft für nachhaltige Energieträger, Mobilität und Kohlenstoffkreisläufe e.V., Große Elbstraße 131, 22767 Hamburg, Germany, is funded by the German Federal Ministry of Economics and Climate Protection through the German Federation of Industrial Research Associations (AiF) as part of the program for the promotion of joint industrial research (IGF) based on a resolution of the German Bundestag.