Minverva's daughters: Women at the institute
International Day for Women and Girls in Science: We present female colleagues of the Kohlenforschung
The United Nations have declared the 11th of February as International Day of Women and Girls in Science. We take this as an opportunity to make the women who work at our institute  visibile. From now on interviews with female coworkers will be published on a regular basis.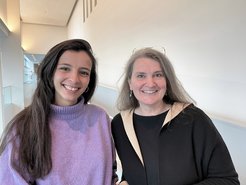 We begin with Claudia Weidenthaler and Marian Guillén, our equal opportunities officers. Claudia Weidenthaler is leader of the "Powder Diffraction and Surface Spectroscopy" group in the Department of Heterogeneous Catalysis. She was born in Germany, studied Geology, Mineralogy and Crystallography. She finished her habilitation in Inorganic Chemistry and has been working as a scientist at the Kohlenforschung since 1999. Marian Guillén is PhD student in the department of Homogeneous Catalysis since April 2021. She comes from Lleida in Spain. She completed her BSc and MSc in chemistry at the University of Barcelona.
What brought you here? Tell us about your way to the Kohlenforschung!
Claudia: Weidenthaler: Coincidence played a role here. At that time, I came from the University of Frankfurt with a third-party-funded project to the institute. After some time, I was offered a substitute position where I established a new area of solid state analytics at the institute and later received a permanent position as a scientist.
Marian Guillén: After completing my MSc, I knew I wanted to work in research. I got in touch with a few institutes and universities around Europe and I eventually decided to join the kofo as a PhD student. This institute is the perfect platform to conduct research in catalysis and it offers an impressive infrastructure along with great scientists.

What do you like about your job?
Claudia: I like that no two days are alike. We constantly need to overcome new challenges, there is never a standstill, we can be creative and we meet so many great, talented, and interesting people.
Marian: I enjoy the flexibility and autonomy in developing projects and ideas.

What are your professional goals?
Claudia: I think I have achieved a lot in my life, but if I have to name goals, they are staying curious and critical and never lose the fun in science.
Marian: I would love to work in a job that has some social impact and empowers people. Social causes have a strong motivational influence on me. Ideally, I would like to use my scientific background to improve the lives of communities and make a positive impact on society.

What was your most difficult step so far?
Claudia: Looking back, I have to say there was more than one difficult step. One of the more difficult ones was certainly the decision to leave my permanent position as a mineralogist at the university and to venture into something new and uncertain by switching to chemistry. But that was a good decision.
Marian: Moving abroad and starting a life in Germany.

Who is your Role Model?
Claudia: Good question! Female scientists of my generation did not have an easy time finding female role models at universities or research institutions in natural sciences. I would say, Marie Curie, Rosalind Franklin and Lise Meitner are excellent role models. They never let themselves be defeated, even though their achievements were widely ignored and they had to overcome a lot of resistance.
Marian: My mother has always been a role model for me.

What is your advice to young girls interested in a job in a scientific institution?
Claudia: Never give up, always keep going and do what you enjoy.
Marian: Seek support from your female colleagues - no one better than them can understand the obstacles when pursuing a career in science. Sharing experiences, advising, and helping each other can be life-changing.

If you could make one wish: What would it be?
Claudia: That all people would be treated equally, regardless of gender, skin color and origin. The basic rights of women and girls to freedom, physical and mental integrity and education must be respected.
Marian: Repect and love for everyone.

Find more information on the International Day for Women and Girls in Science over here.