Exciting discussions about basic research
Representatives of the Social Democrat Party visit the institute
A delegation of the regional Social Democrat Party has recently visited the institute. They discussed the value of basic research with the board of directors.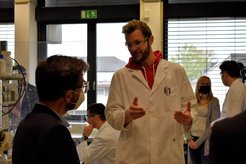 Can basic research help to face the challenges of society? This was a question that Thomas Kutschaty, top candidate of the Social Democrat Party for the 2022 regional elections, had in mind, when he came to visit the institute. Together with representatives of the SPD Mülheim, among them their direct candidate Rodion Bakum, he discussed with members of the board of directors and got an interesting insight into the work in the laboratories of the Kohlenforschung.
Among others, doctoral students Beatrice Landsbergen and Tim Schulte, both students of the Organic Synthesis department, talked about their current projects - which may well last several years. It quickly became apparent to the politicians that basic research almost always means long-term work.
Basic research is distinct from applied research, explained Dr. Tobias Ritter in his function as deputy managing director. Basic research is essential to create new knowledge, he said. "Yet, basic research should also target the important topics of our time," he stated, describing in a short talk about the institute.
The importance of training excellent young researchers
Alois Fürstner, also director at the institute, emphasized how important it is for the institute to train excellent young researchers. "Many former group leaders of the Kohlenforschung are now professors at top universities worldwide," Fürstner said.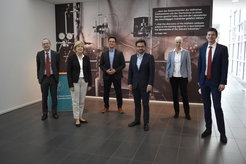 Tobias Ritter and Dr. Verena Schultz-Coulon, administrative director at the institute, made it clear that the promotion of young scientists at the Kohlenforschung begins much earlier than with group leaders. "We regularly have students visiting our labs," Ritter said. Verena Schultz-Coulon mentioned the yearly "Girls' Day", promoting science for young schoolgirls.
However, Tobias Ritter said that the researchers' focus has been not only on the exchange with potential young coworkers, but also on communicating at eye level with the interested public. "We are well aware of our responsibility to communicate openly with the public and to inform about what we are working on," the director said.