Scientist want to improve
the usage of fossile raw materials
Researchers of the Kohlenforschung are part of the new interdisciplinary "BioOxCat" group
Synthetically built iron complexes are meant to help the industry to improve the usage of petroleum. Eight teams from all over Germany bring in their expertise in a new project that is funded by the DFG.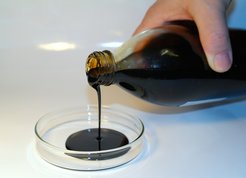 How we use fossile raw materials on our planet is a question of fundamental importance for our society. One thing is clear: Resources like petroleum will not last forever. This precious "black gold" is not only used to heat up people's homes or run our cars. We need petroleum for many chemical products like medicine, construction material or plastics. How long the oil deposits will last depends on the amount – and on how efficient we use it.
How to improve the usage of petroleum is one of the questions a new interdisciplinary research group is about to tackle – and scientists of the Kohlenforschung are on board. Frank Neese, director at the institute and head of the department of Molecular Theory and Spectroscopy, will be member of "BioOxCat" ("Bio inspired oxidation catalysis with iron complexes"), a group supported by the Deutsche Forschungsgemeinschaft DFG.
The "BioOxCat" scientists will have a closer look at iron complexes that are built according to the model of nature, enzymes that contain iron. Those complexes serve as catalysts, but until now, the functionality of the synthetized complexes is not as good as the originals'.
"We have to understand why synthetic complexes do not work as good as natural enzymes. Only then is it that we can optimize their production", says Dr. Thorsten Glaser from Bielefeld University, chemist and spokesperson of "BioOxCat". To reach that goal an interdisciplinary approach is vital.
The MPI für Kohlenforschung will primarily contribute their expertise in advanced high-resolution spectroscopy to the coordinated research initiative. To this end the team around Dr. Maurice van Gastel has developed a brand-new spectroscopic method that, the scientists believe, holds key clues to analyze and understand the electronic structure and hence the reactivity of high-valent iron centers. Furthermore, the team will also support BioOxCat with their longstanding and widely acknowledged experience in the quantum chemical analysis of reactive iron centers.
At the Max-Planck-Institut für Kohlenforschung scientists from all over the world study catalysis in all its aspects. Many technical processes in chemical industries are run with the help of catalysts. By designing new catalysts and a better understanding of how chemical reactions work, researchers are able to tackle problems that seemed to be unanswerable in the past.
The "BioOxCat" group will be funded by DFG with 3.3 million Euro over four years. Prof. Dr. Serena DeBeer, director at the Max Planck Institute for Chemical Energy Conversion, is also one of the principle investigators in the initiative.