Government of North Rhine-Westfalia visits the institute
Politicians from Düsseldorf catch up on our research
The Prime Minister of North Rhine-Westphalia and the Minister for Scientific Affairs have visited the institute. They learned about the research of several departments.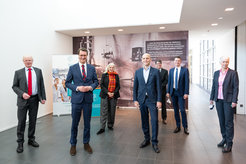 Hendrik Wüst, Prime Minister of North Rhine-Westphalia, and Isabel Pfeiffer-Poensgen, Minister for Scientific Affairs, visited the institute on Friday, 4th of March. The politicians were interested in the scientific work of Prof. Benjamin List, Nobel Laureate and director at the institute. The also had a look at the other departments – as the fundamental research at the Kohlenforschung touches many aspects of catalysis.
"Almost all technical processes in chemical industry are based on catalytic reactions", said Ferdi Schüth, managing director and head of the department of heterogeneous catalysis. Catalysts are molecular tools that accelerate or enable chemical reactions without being consumed, he explained to the politicians. "With new catalysts and a deeper understanding of how they work we can now tackle problems that appeared to be unsolvable in the past."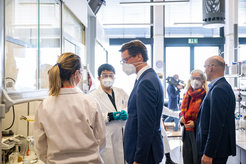 Benjamin List, head of the department of homogeneous catalysis, found a very simple and therefore fascinating catalyst more than 20 years ago: the amino acid proline. This small molecule can be used for selective catalytic reactions. "What makes Organocatalysis so special is that it works with comparably simple ingredients", Ben List explained. Until the late nineties it was common thought that only enzymes or metal catalysts could catalyze chemical reactions.
"We are very proud that a scientist from North Rhine-Westphalia was awarded with the Nobel Prize", stated Hendrik Wüst who also said that this is a "strong signal" for our state as an excellent place for science. "Benjamin List is a pioneer in his field in chemical research", said Isabel Pfeiffer-Poensgen. His work shows that scientists improve life for humanity.
Catalytic purposes in the field of renewable energy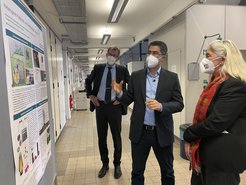 A different aspect of catalytic research is tackled by Harun Tüysüz and his team, as he explained during the visit of the politicians. Tüysüz' group focusses on the design and development of nanostructured material for catalytic purposes in the field of renewable energy. They want to understand the impact of the structure of solid materials on their characteristics as catalysts. "We want to know how solar energy can be stored as chemical energy", explained Tüysüz. The group also participates in the project "Carbon2Chem". In this project scientists try to reduce negative climate effects of steel production.