ORCA Software of the MPI für Kohlenforschung has an excellent standing in chemistry - 3-day user meeting in September introduced the program package for quantum chemical calculations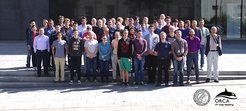 Quantum chemical calculations have become an indispensable tool in all areas of academic and industrial chemical research in recent years. The very complex calculations are based on the laws of quantum mechanics and are carried out with the help of very complicated program packages. The ORCA program package developed at the Max-Planck-Institut für Kohlenforschung in the department of Prof. Frank Neese is one of the most widely used quantum chemistry packages worldwide. The package, which is freely available to academics, can look back on a development period of over 20 years and currently has almost 18,000 users. On average, 100 new users join each week. The great influence ORCA now exerts on chemical research can also be seen in the fact that the recently published article for description in ORCA (DOI: 10.1002/wcms.1327) was identified in the Web of Science as "hot paper" and thus belongs to the 0.1% of the most cited articles in the area of chemistry.
The popularity of ORCA can be attributed to the fact that the program is not only highly efficient, but also shines through its user-friendliness and its extremely broad spectrum of innovative features. ORCA offers a wide range of quantum chemical methods, ranging from semiempirical methods and DFT to single and multi-reference correlated ab initio methods. It also focuses on the spectroscopic properties of open-shell molecules.
The ORCA software is maintained by Dr. Frank Wennmohs at the Institute, industrial users are supported by Faccts.
3-day ORCA User Meeting in September
From September 10 to 12, 2018, a three-day ORCA User Meeting took place at the Max-Planck-Institut für Kohlenforschung. The ORCA User Meeting is supposed to be a forum for all users ranging from new users just starting in quantum chemistry up to experienced users who would like to discuss details and learn more about algorithms.
Attached you find a first photo of the ORCA User Meeting group 2018.