Upcoming event for the public: Professor Schüth's experimental lecture on the Mülheim open-air stage: Friday, 30 August 2019, 8:30 p.m. will take place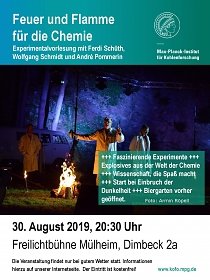 "Fascinating experiments and big hits from the world of chemistry", that is the promise of the experimental lecture by Ferdi Schüth and colleagues from the Max-Planck-Institut für Kohlenforschung which will take place on Friday, 30 August 2019 at the Mülheim Freilichtbühne. The professor will perform his popular chemistry show, which unfortunately had to be cancelled at short notice last year. The team promises to combine proven experiments such as "the burning fried sausage" or "the chemical balloon lottery" with spectacular new experiments, which they developed specifically following a weekend course in pyrotechnics. Ferdi Schüth is convinced: "It will definitely be exciting, funny and instructive. Although we can't offer any guarantee of success, we'll do our best to make sure that this Friday's open-air theater will have a good time.

Young and old can look forward to a lot of interesting information from the world of chemistry and physics in the beautiful scenery of the open-air stage. The two hour experimental lecture is free of charge and starts at 8:30 p.m. at nightfall. The beer garden of the open-air stage is open from 6:00 p.m.
As the weather forecast for tomorrow is good, the experimental lecture will take place.