Fresh ideas for an old name reaction
Manuel Scharf receives Thiel Award 2022
PhD student in the Department of Homogeneous Catalysis receives the 2022 Thiel Award for the best research publication of the past year. His work on the Pictet-Spengler reaction was published in the Journal of the American Society.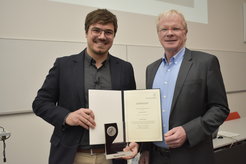 The Max Planck Institut für Kohlenforschung has honored PhD student Manuel Scharf with the Thiel Award 2022. The young chemist convinced the jury with a particularly successful publication: His paper "A Catalytic Asymmetric Pictet-Spengler Platform as a Biomimetic Diversification Strategy toward Naturally Occurring Alkaloids" was published last year in the renowned Journal of the American Chemical Society.
The Thiel Award was established in 2019 to promote young scientists at the MPI. It honors the best publication of a year in memory of Prof. Dr. Walter Thiel, director emeritus, who died unexpectedly in 2019. The award comes with prize money of 2,000 euros.
It has been more than one hundred years since the two Swiss chemists Amé Pictet and Theodor Spengler described the so-called Pictet-Spengler reaction, a way to produce heterocycles, ring-shaped molecular chains of at least two different chemical elements. This process is of great interest to medicinal chemistry, among others, because it can be used to produce active agents for drugs.
"I would not have expected that it would still be possible to find really exciting new concepts for this long-established reaction," revealed Ferdi Schüth, Managing director of the Institute, in laudation. "But Manuel Scharf has really made a breakthrough."
In his presentation, Manuel Scharf then described his discovery. He has developed a method of using new catalysts to enable completely new applications of the Pictet-Spengler reaction. Thus, he has added valuable new precision tools to the "chemical toolbox."
The importance of collaborations
Institute seminars at the MPI offer several young scientists the opportunity to present their research to the entire institute. This year, for example, Ingolf Harden, a doctoral student with Prof. Dr. Frank Neese, gave a talk entitled "A Combined Spectroscopic and Computational Study on the Mechanism of Iron-Catalyzed Aminofunctionalization of Olefins." With his work, Harden illustrated the importance of close collaboration between experimental chemistry and theoretical chemistry when it comes to truly understanding the world of atoms and molecules.