Exciting experiments await the audience
Ferdi Schüth and his team perform an entertaining science lesson for the general public
Hundreds of curious visitors will follow a very special kind of lesson in chemistry. Ferdi Schüth and his team perform an exciting Experimental Lecture on the 16th of September. UPDATE: The event will take place. Please bring warm clothes and a cushion as the seats might be wet.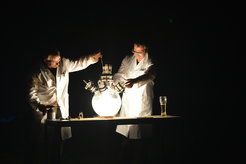 Chemistry is anything but a boring affair. The researchers at the Max-Planck-Institut für Kohlenforschung prove this - not only in their everyday laboratory work, but also as part of their Experimental Lecture at the Freilichtbühne Mülheim. This event, organized and carried out by Director Ferdi Schüth and his colleagues Dr. Wolfgang Schmidt and Andre Pommerin, has by now achieved cult status in Mülheim and beyond. Finally, the time has come again this year: On Friday, September 16, from 18 p.m. the next experimental lecture will take place.
Ferdi Schüth and his team come up with exciting experiments to thrill their visitors. "This year, we will also include the topic of the Nobel Prize into our show," promises Ferdi Schüth. After all, his colleague, director Benjamin List, has been awarded the Nobel Prize in Chemistry in 2021. However, Schüth does not yet want to reveal exactly what role the award will play in the show. The other experiments that he and his team are working on are also still a secret.
An important note: Due to the large visitor response and limited seating, pre-registration is required via the website of the venue (www.regler-produktion.de). There, tickets can be booked via a link, which are best printed out and brought to the show. From 7:30 p.m., seats not taken will be given away until the capacity of the venue is reached. Thus, tickets not shown will lose their validity from 7.30 pm.
As the experiments can only be shown on a dry day, the event unfortunately has to be cancelled in case of rain. Information on this will be posted on our website at short notice.