Outstanding trainees at the Max-Planck-Institut für Kohlenforschung
Three times the top mark "sehr gut" at the IHK final examination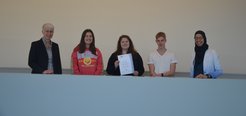 The Chamber of Commerce and Industry for Essen, Mülheim an der Ruhr and Oberhausen in Essen has honored the best apprentices of 2021. Among them were also three trainees of the Kohlenforschung: Johanna Mengeler, Nadine Sauerborn and Philipp Schlathölter.
The three received the award certificate from Dr. Verena Schultz-Coulon, together with training manager Laila Sahraoui. The Administrative Director congratulated the newly qualified laboratory assistants: "Your training in times of Corona pandemic was a special challenge. We are very proud of you and are happy about your great grades. Our thanks also go to your training supervisors Ms. Wedemann and Ms. Sahraoui, who guided you in bringing out the best in you," said Schultz-Coulon.
Philipp Schlathölter, Nadine Sauerborn and Johanna Mengeler were able to shorten their training as chemical laboratory assistants to three years. They are still employed at the institute and work in different research and analysis departments. When asked by the director what they particularly enjoyed about their apprenticeship, they unanimously answered: "the time in the teaching laboratory" and "the fellowship with the other apprentices".
"We are very happy about every good performance achieved by the apprentices," explained Laila Sahraoui. "But to be among the best in the exams is something very special. You can hardly imagine a better start to your professional life," said the training manager. The three best KOFO apprentices were honored a few weeks ago in a ceremony by the IHK together with all the other top trainees from the district. Out of a total of around 3,130 final examiners, 200 achieved the grade "sehr gut" this year.