Youth Council
The youth- and trainee representatives (JAV) are the part of the works council, especially tasked with supporting the rights and needs of all employees under the age of 18, and all trainees under 25.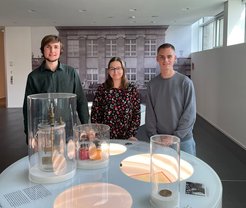 The JAV is elected for a period of two years and during their tenure, they represent trainees and young employees in the works council, to the heads of administration and to the executive board. In addition the JAV engages itself in:
Asserting the rights of young employees
Organizing events such as apprentice trips and Christmas parties
Consulting apprentices and young employees in case of conflicts
Helping apprentices with problems in school or at work
The JAV also take part in the MPG general youth- and trainee representation (GJAV) to enable exchange between the apprentices of all MPG Institutes.
If you have any questions, suggestions or problems, you can always contact us in person, by phone or by e-mail.
See you soon,
your JAV