Youth Council
The Youth- and trainee representatives (JAV) are part of the workers council, which supports the rights and needs of trainees, as well as employees under 18 years of age.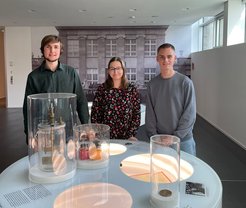 Every second year in October/November, the JAV is elected by all trainees and workers under 18. In that time we take care of the following tasks:
Representation of young employees and trainees in the workers council
Assertion of young employees rights
Organizing events like for example apprentice trips and Christmas parties
Consulting apprentices and young employees in case of conflicts
Helping apprentices with problems in school or at work
We also take part in the MPG general youth- and trainee representation (GJAV) to enable exchange between the apprentices of all MPG Institutes.

The JAV currently consists of:
Johanna Nienhaus (left), 3rd year apprentice
Nico Tchorz (middle, chairman), apprentice
Johanna Mengeler (right), trainee

If you have any questions, suggestions or problems, you can always contact us in person, by phone or by e-mail.

See you soon,
your JAV