Physics laboratory assistant (Physiklaborant/in)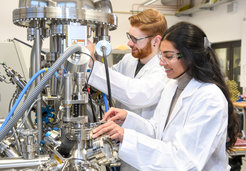 Physics laboratory assistants are responsible for carrying out physical measurements and test series. The trainees produce the necessary devices and circuits for their experiments themselves and evaluate them with the help of protocols. The controlling of the test series and the evaluation of the measured data is usually done by computer.
During training, trainees are involved in all the work of the various analytical departments. There they also learn how to work with state-of-the-art complex physical analysis equipment and how to solve experimental problems. In addition, exam-relevant training contents are taught in a modern training laboratory.
As this is a dual training program, the vocational school takes place in the form of block instruction at the Berufskolleg Stadtmitte, which is close to the institute. Additional in-depth instruction is provided at the institute by trained instructors.

Prerequisites are FOR (Fachoberschulreife) with qualification for the upper school (Oberstufe), FHR (Fachhochschulreife) or high school graduation (Abitur). Physics laboratory assistants should have a good understanding in mathematics, physics and geometry and also have a good spoken and written command of the English language, work well in a team and enjoy dealing with people from different cultural backgrounds.
The training is meant for 3 1/2 years.
Application
A written application can be made in digital form as well as in paper form. It must include a cover letter, a complete CV and copies of your most recent certificates. Internship certificates and a photograph may also be included. The hiring date and thus the beginning of the training is September 1st of each year. Since our aptitude tests take place at the end of November of the previous year, the application must be submitted by 30 September at the latest.
Please send your application to
Frau Laila Sahraoui
Max-Planck-Institut für Kohlenforschung
Kaiser-Wilhelm-Platz 1
45470 Mülheim an der Ruhr
E-mail: sahraoui@kofo.mpg.de
All positions offered by the Max-Planck-Institut für Kohlenforschung are subject to the following conditions: The Institute is interested in increasing the proportion of female coworkers in areas in which they are underrepresented. We strive at employing a larger number of disabled co-workers. Therefore, applications of disabled persons are encouraged.
Data Protection Regulation
Paragraph information in accordance to Art. 13 of the Gerneral Data Protection Regulation (GDPR) for the application procedure of the Max-Planck-Institute can be found here.