Ben List receives Herbert C. Brown Award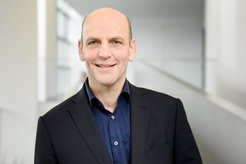 Professor Ben List is the winner of the 2022 Herbert C. Brown Award for Creative Research in Synthetic Methods sponsored by the Purdue Borane Research Fund and the Herbert C. Brown Award Endowment.
List, the first German to receive this award, is being recognized for his outstanding accomplishments and creative contributions to research in synthetic methods.
The Herbert C. Brown Award has been presented annually since 1997 to an outstanding personality who has discovered and developed useful and innovative methods in the field of chemical synthesis. It commemorates the American-British Nobel laureate Herbert Charles Brown, who was professor of chemistry for many decades at Purdue University in West Lafayette. Previous awardees include Robert H. Grubbs, Richard F. Heck und Akira Suzuki (https://www.acs.org/content/acs/en/funding-and-awards/awards/national/bytopic/herbert-c-brown-award-for-creative-research-in-synthetic-methods.html)
The award ceremony of this prestigious prize will take place in March during the ACS 2022 Spring National Meeting in San Diego.
C&EN announced the ACS 2022 national award winners on September, 27th.