The "Nobel Week" for Chemistry Nobel Laureate Professor Benjamin List - A Review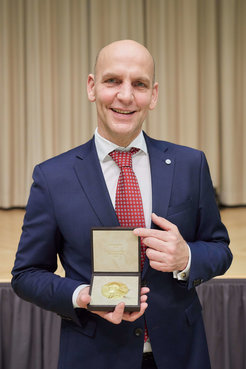 The official Nobel Ceremony on Friday, 10th of December, marked the peak of this year's Nobel Week – even if it was a hybrid Event, due to Corona. A very special week found its end for Prof. Benjamin List, director at the Max-Planck-Institut für Kohlenforschung, who has just received the Nobel Prize in Chemistry.
The actual Awards Ceremony had been recorded several days before in the Home Countries of all Laureates. The German awardees Prof. Klaus Hasselmann (Physics) and Benjamin List had been invited to the Harnack Haus of the Max Planck Society in Berlin to receive the Prize from Per Anders Thöresson, the Swedish Ambassador. Bärbel Bas, President of the German Federal Parliament, gave the laudatory speech. She underlined the importance of Science and reason for our society. "You, Prof. List and Prof. Hasselmann, have created knowledge for humankind", said Bas, "knowledge that we need urgently."
Right before the Ceremony in Berlin the famous German scientific journalist Ranga Yogeshwar had the opportunity to interview Ben List and Klaus Hasselmann in public (in German language). Both events, the interview and the ceremony, could be followed via Webstream and are still available online. Thousands of people have watched the videos until now.
The official Nobel Lectures of this year's awardees have been published on Wednesday, 8th of December. In their scientific talks the Laureates explain the research that they have been awarded for. Benjamin List thus speaks about the origins of Asymmetric Organocatalysis. He emphasizes that the prize is not only his – and David MacMillans. He honors all the other scientists that have been working in the field of Organocatalysis during the past 20 years. The video had been recorded in the Museum of Art and Cultural History in the city of Dortmund a couple of weeks ago.
Highlight of every Nobel Week is, of course, the 10th of December. Due to the Pandemic the Swedish Acadamy of the Sciences and the Nobel foundation hat decided to perform a hybrid Event that was traditionally shown on Swedish television and on Youtube. Benjamin List – as all the other Laureates – followed the Ceremony from home. An invitation to Stockholm, to the festive Gala and Ball, will follow next year, the Nobel Foundation has promised.