President elect visits our institute
Patrick Cramer speaks to directors and staff of the Kohlenforschung
Patrick Cramer will be the new president of the Max Planck Society from June 2023. He has now paid our campus in Mülheim a visit to speak to the directors and listen to the employees concerns and wishes.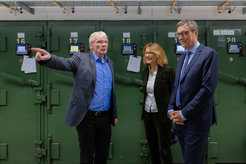 Patrick Cramer will become the new president of the Max Planck Society next year. The chemist who works as director at the Max Planck Institute for Multidisciplinary Natural Sciences in Göttingen has set the goal of visiting all institutes of the Max Planck Society in the run-up to his term of office. He desires to talk to the directors and to listen to the staff. Now Cramer visited the campus in Mülheim together with Simone Schwanitz, Secretary General of the Max Planck Society.
"We are all Max Planck," Cramer emphasized during an open exchange with the staff of the Max Planck Institut für Kohlenforschung. By this he stated that it was the task of all employees to contribute to the goals of the Max Planck Society - and that the ideas of all members of the "Max Planck family" should be heard. So the president-elect showed an open ear for the wishes, questions and suggestions of students, permanent scientists and, of course, the directors.
Simone Schwanitz, who has taken over the management of the General Administration in Munich, was not only enthusiastic about the current research topics of the scientists in Mülheim. She also showed her admiration for the many great achievements that have been made in more than one hundred years at the institute.
Next June, Patrick Cramer will officially take over as President from Prof. Martin Stratmann, Director at the Max Planck Institute for Iron Research in Düsseldorf.