Promoting young talent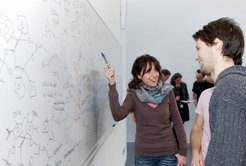 We want to inspire young people with enthusiasm for science and science-related professions. To this end, school projects and student internships take place on a regular basis.
The Max-Planck-Society supports female scientists with various programs:
W 3 Program for the Advancement of Outstanding Female Scientists in senior positions
Minerva-FemmeNet: a mentoring network for female doctoral students and diploma students, for postdoctoral students and those working on their habilitation
Option for female scientists to extend a fixed term contract by six months to allow for pregnancy and childbirth
Christiane Nüsslein-Volhard Foundation: supports talented young female scientists with children
Elisabeth-Schiemann-Kolleg
For detailed information, please visit the homepage of the Max Planck Society.